VOLANO Chat Software
The VOLANO™ chat software for the Java™ platform is used by Web sites around the world for community building, distance learning, live events, romance and dating, on-line business meetings, support groups, on-line sales, help desks, chat room hosting, and more. The pure Java VOLANO chat server and its Java applet clients have kept the world chatting on the Internet since 1996.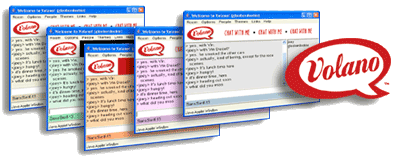 At just $499 for a new license and free upgrades from any previous version, the VOLANO Chat Server offers the quickest way to get an unlimited number of people chatting at your Web site. Download a free trial today!